"Marco Polo Didn't Go There" by Rolf Potts is a great collection of travel stories with an unusual twist, since each chapter has ending notes which describes the circumstances surrounding that particular story. This is a great concept and feels like the director's commentary track on DVDs.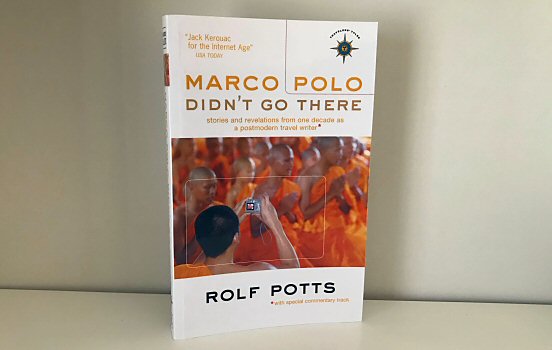 Among other tales, Rolf Potts describes with vivid detail how he got drugged and robbed in Istanbul and how he tried to crash the set of movie The Beach in Thailand.
In one of my favorite episodes he travels to Australia to follow in the footsteps of the book "The Songlines" by Bruce Chatwin. He actually stumbles upon one of the characters from the book. The ninety-year old woman casually points to the place where Chatwin sat and tells a few anecdotes from his visit. I love this kind of meta-writing, where a wannabe travel writer (me) reads the works of an experienced travel writer (Potts) who in turn writes about a legendary travel writer (Chatwin).
Rolf Potts was called "Jack Kerouac for the Internet Age" by USA Today, and it makes sense. I really like his witty prose which clearly conveys his adventurous spirit. The title itself comes from an encounter he had in a Bangkok prison, where an inmate questioned his desire to follow in the footsteps of Marco Polo while going to Chiang Mai, as the Venetian merchant never passed through Thailand on his journey to China.
Rolf Potts is perhaps best known for his classic book "Vagabonding", detailing how to get ready for long-term travel. This classic book written in 2002 is probably well-known to most travel readers. While it's is over a decade old, most parts still holds up great. Some chapters may seem a bit outdated, especially those concerning the use of internet. But keep in mind that this was written many years before anyone had ever heard of smartphones, pads and similar devices. After all, such is the curse of most paper-bound media in the internet age. But be careful, because after reading "Vagabonding", the irresistible allure of long-term world travel can never really be cured.
If you want to learn more about what Potts is up to these days, check out his blog and the interview by Tim Ferriss from last year.